Big Day Out. The annual pilgrimage the northern hemisphere-residing bands want to make. Celebrating its 20th year, BDO's Melbourne event lived up to my expectations; a dizzying day of racing between stages in the heat, expensive festival food and a corroboree of boho-dressed girls and board short-sporting guys.
Believe it or not, this was my first BDO – a musical coming-of-age for me, albeit 10 years too late. I was there shooting for Life Music Media!
Here are some of my highlights from Big Day Out – Melbourne: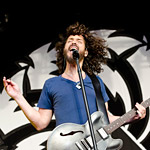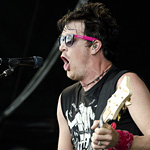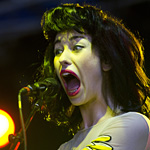 From left: My Chemical Romance, The Living End and Kimbra.
Soundgarden – Orange Stage
The REAL headliner of the Big Day Out came in the form of veteran grunge Gods from Seattle, Soundgarden. That is all.
The Living End – Blue Stage
On the main stage, Chris Cheney never fails to deliver, effortlessly keeping the energy levels up. Playing a set list of 90s classics and throwing a few spanners in the works, The Living End should have a standing date at BDO for years to come.

Kimbra – Converse Green Stage
Kimbra brought a welcome relief of estrogen to the Big Day Out – it seemed that every photographer was there to cover her set. Her incredibly strong pipes, crazy Rio-inspired outfit and captivating presence, had both the audience and photographers thrilled.
Cage The Elephant – Essential Stage
Now and then there's a pretty great discovery. After tearing up Coachella festival, Cage The Elephant played their first Big Day Out like they meant it. Lead singer Matt Shultz was a photographers dream, providing the only crowd surf moment of the day.
Full gallery on Life Music Media.