To celebrate Bastille Day, I've put together a mini travel guide of my favourite things to see & do in Paris. While I'm sure the Eiffel Tour, The Louvre and Notre Dame are at the top of your lists… here are some quirky art, food and shopping ideas to get you off the beaten track in the City of Lights (includes Google map).

Catacombs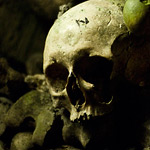 Catacombs de Paris are a maze of tunnels underneath the city streets where Parisians placed the excavated remains from the Cemetery of Innocents. It's a long, damp walk until you reach the bones, but an unforgettable experience if you're slightly intrigued by the macabre. Get there early to beat the queues.
1, avenue of Colonel Henri Rol-Tanguy, Montparnasse, 14th arr.
Metro: Denfert-Rochereau. web

59 Rivoli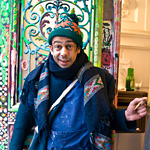 Paris maybe known for its prestigious art galleries, but its contemporary art scene is where it's at. Enter 59 Rivoli – situated around the corner from The Louvre, it was an abandoned bank until three artists transformed the vacant building into an artists squart. With public support, the artists have remained there since 1999. The artist's studios are open to the public every night and be sure to meet Gaspard Delanoe, the charismatic co-founder.
59 rue de rivoli, 1st arr. Metro: Châtelet. web
Lavirotte
Designed by architect Jules Lavirotte and sculptor Jean-Baptise Larrive, Lavirotte (1901) remains one of the finest examples of Art Nouveau architecture. Notably, Salvador Dali thought that this façade was the most erotic in Paris.
29 Ave Rapp, 7th arr. Metro: École Militaire.



Ladurée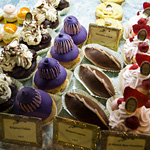 Ladurée's Bonaparte tea salon first opened in 1947, and in my opinion is the most beautiful. Ladurée pioneered the French macaron recipe – the long queues out the door are a testament to their quality. This cafe is not so off the beaten track in the 6th arrondissement – but while battling the hoards for macarons, it's easy to overlook their impressive cakes.
21 Rue Bonaparte, 6th arr. Metro: Saint-Germain-des-Prés. web

Café des Deux Moulins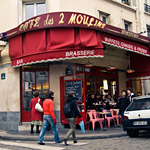 If you're a fan of the cult movie Amelie, this cafe is a must! Cafe des Deux Moulins was the actual cafe where Amelie's character worked as a waitress. The decor is well preserved – including the unisex toilet. The menu is reasonably priced and the patrons were an equal mix of locals and international tourists. I had the Amelie special – Chocolat Chaud & Crème Brulée.
15, rue Lepic, Montmartre, 18th arr. Metro: Blanche. web
I Love You Wall
The Wall of Love mural, located near the iconic Art Nouveau, Abbesses Metro. This public artwork is beautifully inscribed with "I Love You" in 311 languages. Je t'aime Paris!
Place des Abbesses, Montmartre. Metro: Abbesses. web




Angelina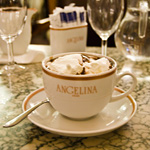 One of the grand tea salons in Paris, Angelina has given exceptional service in historical surrounds since 1903. It's no doubt it was a favourite hangout of Audrey Hepburn and Coco Chanel. If you're a Hot Chocolate connoisseur like me, try their old school Chocolat Chaud à l'Ancienne l'Africain.
226 Rue de Rivoli, 1st arr. Metro: Concorde or the Tuileries. web


Merci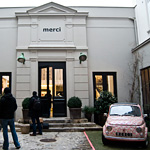 A high end boutique with a difference. Part designer outlet, part cafe, part bookstore – and with all profits going to a children's charity in Madagascar, you'll never feel guilty about buying YSL again. Look out for the vintage Fiat 500 car in the front. Cute!
111 Boulevard Beaumarchais, 3rd arr, Marais. Metro: Saint-Sébastien – Froissart. web


Boulinier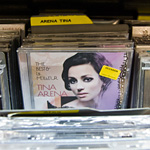 Massive second-hand music shop, selling new & used CDs, vinyl and books. If you're a music collector, be sure to sift through the boxes of cardsleeve CD singles – while the rest of the world moved on to slimline jewel cases, France was still releasing 2 track cardsleeves well into the 00′s.
20 Boulevard Saint-Michel, 6th arr. Metro: Saint-Michel or Odéon. web


Marcel Aymé – Man through the Wall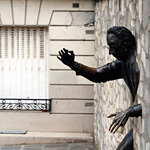 A delightful public artwork, located in art mecca, Montmartre. The sculpture is based on writer, Marcel Aymé and his novel Le passe-muraille (The Walker through Walls). Paris at it's whimsical best.
Rue Novins, 18th arr, Montmartre. Metro: Abbesses.




View Offbeat Paris by auroradesign.nu in a larger map
For even more Paris travel inspiration, check out my gallery or Flickr!